SYSTEMATIC REVIEW ON IMPACT OF MASS DRUG ADMINISTRATION ON LYMPHATIC FILARIASIS PREVENTION
Keywords:
Lymphatic filariasis, mass drug administration, systematic review, transmission assessment survey
Abstract
introduction: Lymphatic filariasis (LF) is a disease caused by filarial parasites transmitted to human by mosquitoes and infecting 120 million people worldwide. Mass drug administration (MDA) involves delivering treatment to every person living in a defined geographical area, is the current practice in place and has shown to be very useful in reducing the global transmission of LF. This review aims to explore into the effectiveness of MDA in interrupting the transmission of LF in terms of the types of MDA, number of cycles, coverage, and percentage of transmission reduction. Methods: A systematic search via Scopus, PubMed, and Cochrane was done for articles published from 2015 to 2019 by using the Preferred Reporting Items for Systematic Reviews and Meta-Analyses (PRISMA) checklist. The articles identified from the databases searched and any that appeared to relate to the research questions were included. A total number of 14 articles fulfilled the criteria for review. Results: Overall, the review showed a reduction in LF indices of more than 50% and up to 100% post-MDA in endemic communities with high prevalence. The entomological assessment revealed a reduction in LF transmission post-MDA, which strongly supported the reduction of LF indices. Biannual MDA conducted further showed a marked reduction in LF indices compared to annual MDA. Double therapy of MDA significantly reduced the transmission indices to almost nil compared to single therapy. Conclusion: Review of MDA showed promising effects in which it reduced the prevalence microfilaraemia (mf) and Circulating Filarial Antigen (CFA) from baseline, as well as the clinical prevalence and entomological indices. Combination therapy showed better outcome compared to single therapy. Therefore, complementary vector control is suggested in addition to MDA, as well as education delivery to the endemic communities.
Downloads
Download data is not yet available.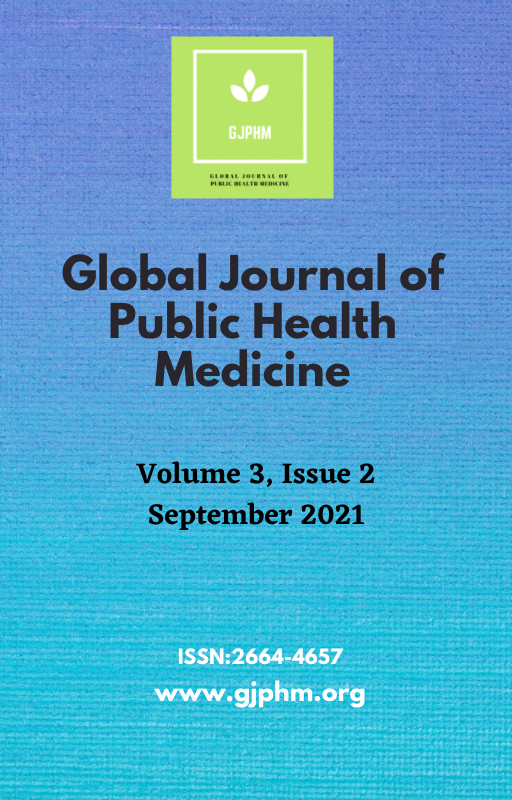 Downloads
How to Cite
Mohamed Hanan, M. F. ., Mohd Sobri, H. N., Zainal Abidin, N. D. I. ., Hassan, M. R. ., Mohammed Nawi, A. ., Ahmad, N., Syed Abdul Rahim, S. S. ., & Jeffree, M. S. . (2021). SYSTEMATIC REVIEW ON IMPACT OF MASS DRUG ADMINISTRATION ON LYMPHATIC FILARIASIS PREVENTION. Global Journal of Public Health Medicine, 3(2), 414–428. https://doi.org/10.37557/gjphm.v3i2.91
License
Copyright (c) 2021 Mohd Fathulzhafran Mohamed Hanan, Hanani Nabilah Mohd Sobri, Noor Dalila Inche Zainal Abidin, Mohd Rohaizat Hassan, Azmawati Mohammed Nawi, Norfazilah Ahmad, Syed Sharizman Syed Abdul Rahim, Mohammad Saffree Jeffree
This work is licensed under a Creative Commons Attribution-NonCommercial 4.0 International License.
The authors retain Full copyright of their published article